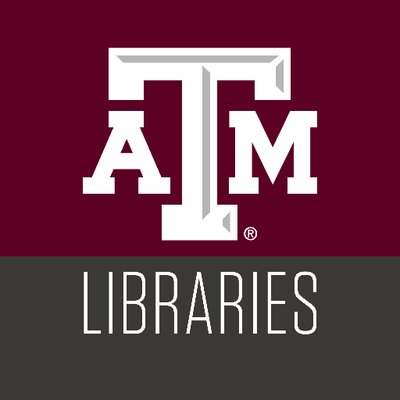 Director for Research Data Management Services
Texas A&M University, Libraries
Position Announcement
Director for Research Data Management Services
Texas A&M University Libraries invites applicants for the Director for Research Data Management Services (RDMS), a new unit within the Libraries' division of User Services. The Director will lead the Libraries' efforts to envision and build a new program that provides data management services and advances open science at Texas A&M University. Under the Director's leadership, the RDMS team, along with collaborators from across the Libraries, will develop and implement data management services that support the evolving needs of Texas A&M faculty and students engaged in research data management throughout the research life-cycle. Services will include outreach and instruction, development of standards and workflows, and collaboration on the management of the Texas Data Repository with the Texas Digital Library community.
The Director is responsible for overall leadership and management of RDMS and will work collaboratively with the RDMS team and colleagues from across the Libraries to create and communicate a vision and set priorities for this new unit. Responsibilities include visioning and strategic direction setting, as well as oversight for program development and assessment, the mentorship and development of a team of data management experts within the unit and from across the Libraries, and the building of collaborative relationships and strategic partnerships with researchers and entities from across campus. The RDMS team will collaborate with the Office of Scholarly Communication and the Libraries' subject librarians to expand and promote research support and data-related services across the disciplines and throughout the research life-cycle at strategic points of need.
Reporting to the Dean through the Associate Dean of User Services, the Director administers the work of three tenure-track faculty members (GIS Librarian, Government Data and Information Librarian, and Data Librarian) and works collaboratively with staff and units from across the Libraries to ensure high-quality customer services and support to members of the Texas A&M community. The Director will engage in active outreach to the researcher community on campus and beyond to elevate and shape Texas A&M University's and the Libraries' data management efforts through strategic relationships, collaborative partnerships, and formal service commitments. The Director will be expected to stay current on funding agencies' data management policies and contribute to the ongoing training of library staff on research data management fundamentals and services.
This is a senior leadership position with tenured/tenure-track academic appointment carrying full faculty status and responsibilities including research, publication and service to meet both the Libraries' and the University's requirements for tenure and promotion. To be considered for a tenure track title of Associate Professor, or Professor, candidates must engage in an ongoing body of scholarship evidenced by publications in high quality, peer reviewed journals or other significant venues, and an engaged record of service at a national level. The successful tenure track candidate must be willing to go through a complete review process for tenure on arrival, including letters from external reviewers and a faculty vote

ENVIRONMENT:
The University:
Founded in 1876 as a land-grant institution, Texas A&M University is the sixth largest university in the nation. The signature Aggie Spirit captures and embodies the university's traditions and core values: Excellence, Integrity, Leadership, Loyalty, Respect, and Selfless Service. The university has an enrollment of more than 63,000 students and 2,800 instructional faculty. Based on Vision 2020, the institution's goal is to become a premier, tier-one Research University and to be ranked among the top 10 public universities nationwide by 2020.
The Libraries:
In an effort to provide relevant customer service in an ever-changing environment, the Texas A&M University Libraries is developing a core culture representing flexibility, innovation and risk-taking. In addition, the Libraries recognizes the value in creating a culture that draws from the richness and strength reflected in the diversity of our state and nation and has created an actionable Diversity Plan.
The Libraries currently rank 8th in materials expenditures ($23.6 million) and 4th in ongoing expenditures ($16.6 million) among all ARL libraries. Additionally, the Libraries typically rank near the top 10 for starting librarian salaries among ARL U.S. Public Academic Libraries. Currently the staffing includes 268 individuals which includes 90 librarians holding faculty status.
The Community:
Texas A&M is located in Bryan-College Station, a friendly community where the ubiquitous "howdy" greets friends and newcomers alike. The community boasts excellent medical facilities, live entertainment and the arts, fine-to-casual dining, outdoor recreation, a local airport, and a low cost of living, as well as easy proximity to Austin and Houston. Additionally, Texas residents enjoy the benefit of having no state or local income tax.
Salary/Benefits/Rank: Faculty rank and salary are commensurate with qualifications and experience Excellent benefits include health plan and paid life insurance; several retirement plans including TIAA; paid holidays and vacation; no state or local income tax. Funding is available for professional travel and development activities.
Applications: Applications received by May 1 2019 will be given first consideration. The letter of application should address the responsibilities, qualifications, and experiences listed for the position. Please submit application letter, vita, and the names, e-mail addresses and telephone numbers of three professional references. References will not be contacted without contacting the candidate first and verifying permission. Send nominations and applications via email to LibrarianJob@library.tamu.edu or mailed to Pixey Mosley, Associate Dean for Administrative & Faculty Services, Texas A&M University Libraries, 5000 TAMU, College Station, TX 77843-5000.
Equal Opportunity/Affirmative Action/Veterans/Disability Employer committed to diversity.
For more information about the library, see http://library.tamu.edu, about the university, http://www.tamu.edu, and about the communities, http://www.visitaggieland.com.
When inquiring or applying for this job opening, please also reference AcademicCareers.com
Applicants with dual-career considerations can find university jobs such as professor jobs, dean jobs, chair / department head jobs, and other faculty jobs and employment opportunities at Texas A&M University, Libraries and at other institutions of higher education in the region on www.AcademicCareers.com