Organization Profile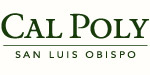 Cal Poly's Electrical Engineering Department offers B.S. and M.S. degrees in Electrical Engineering. Also, the Electrical Engineering and Computer Science departments jointly offer a B.S. degree in Computer Engineering. Cal Poly emphasizes undergraduate education. Our "learn by doing" approach involves extensive lab work and projects in support of theoretical knowledge. Computing facilities are modern and extensive.
U.S. News & World Report ranked the Electrical Engineering Department first among primarily undergraduate public programs in the nation.
For further information about the department, see www.ee.calpoly.edu.

Visit our Web page.
(The link above opens a new window. Close the window to return here.)
---
There are no current job listings at this time. To search for job opportunities at other colleges, universities and research institutes around the world, please click on this link: www.AcademicCareers.com.