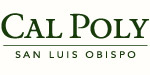 Assistant Professor - Electrical Engineering
California Polytechnic State University
The Electrical Engineering Department and Computer Engineering Program at Cal Poly, San Luis Obispo, are seeking to hire an Assistant Professor beginning Sept. 12, 2019. Eligible candidates should have subject matter expertise in several sub-disciplines such as electric circuits, electronics, digital circuits, embedded computing systems, communication systems, control systems or signal processing as examples. Candidates with skills and track record to improve student success rates in early division electrical and computer engineering courses are sought for this position.
The College of Engineering at Cal Poly is committed to building a diverse faculty of teacher-scholars who collaborate to provide a multi-disciplinary and hands-on approach to student learning and applied research. We believe that individuals from diverse backgrounds strengthen our programs and positively impact student success. We encourage qualified applicants from all backgrounds to apply for consideration. Cal Poly emphasizes Learn by Doing, which involves extensive lab work and projects in support of theoretical knowledge. Candidates with research or private industry experience are encouraged to apply.
Cal Poly is committed to the teacher-scholar model. As teachers, all faculty members are expected to exhibit strong pedagogic skills and to remain proficient and current in the disciplines. As scholars, faculty members are expected to be engaged in scholarly work that contributes to the prestige of our programs, and the University.
Required: A Ph.D. in Engineering Education, STEM Education, Computer Engineering, Electrical Engineering, Computer Science or related major
Preferred: Preference will be given to candidates with evidence of (or potential for) excellence in teaching.
Candidates with a track record of publishing in engineering education conferences, or similar venues are desired.
Candidates should be knowledgeable in the best pedagogical practices in teaching electrical engineering and computer engineering.
For details, qualifications, and application instructions (online application required), visit WWW.CALPOLYJOBS.ORG and refer to requisition #105087.
Application review begins January 18, 2019 and will continue until the position is filled.
EEO.
When inquiring or applying for this job opening, please also reference AcademicCareers.com
Applicants with dual-career considerations can find university jobs such as professor jobs, dean jobs, chair / department head jobs, and other faculty jobs and employment opportunities at California Polytechnic State University and at other institutions of higher education in the region on www.AcademicCareers.com